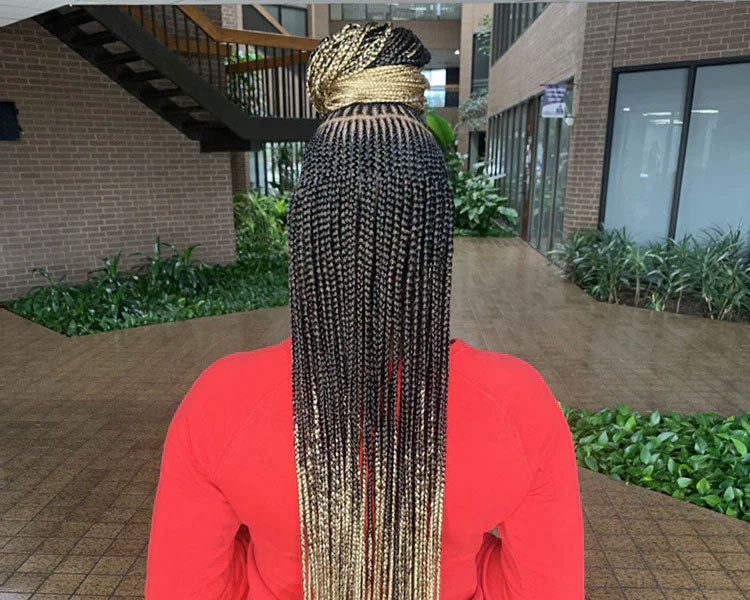 Jun 25 , 2023
Unveiling the Costs at Hair Braiding Shops Near You
Finding the right place to get your hair braided near me can be a challenging task. As with any beauty service, the price and quality can vary widely, but if you're searching for hair braiding shops that offer exceptional service, look no further than Feminine Attractions. Celebrities like Solange Knowles, Rihanna, and Zendaya have set the braided trend ablaze on red carpets, making it essential for us to decode braid prices.
By diving deep into the art of braiding, it's crucial to understand how much does it cost to get hair braided. With the plethora of styles available, like box braids, cornrows, and tribal braids, it's also vital to know how much are box braids or how much does braiding hair cost at specialized braiding stores near me
Braids, with their rich history and cultural significance, have been adorning the heads of influential figures for centuries. Today, millennials and especially Black women have embraced the beauty, versatility, and cultural depth of these styles. So, if you're looking for hair salons that do braids near me or even braids shops in the vicinity, Feminine Attractions is your go-to.
Price breakdown at Feminine Attractions:
Cornrows
A timeless classic ranging from $40 to $600, depending on the intricacy and stylist's skill. Enhanced designs might set you back anywhere from $100 to $250.

Microbraids


A low-maintenance style that typically costs between $200 and $400, depending on the number of rows and their length.

Box Braids


Great for those wanting a natural look with protective styling. Prices can vary from $300 to $800, depending on material and length.

Senegalese Twists


These popular braids are versatile and trendy, ranging from $300 to $800, subject to length and added adornments.
Why choose Feminine Attractions? Because we provide top-tier services at affordable braid prices. Our seasoned stylists stay updated with the latest in braiding techniques and trends. Booking with us guarantees quality, ensuring your braids remain fresh until your next visit.
Remember, braid prices mentioned are average estimates; for a tailored quote based on your desired style, consult our team. Ready for a braided makeover? Embrace the beauty of braids this summer with Feminine Attractions in Houston, TX, and stand out without stretching your budget!
Determinants of Braid Pricing
The kind of braid you opt for plays a significant role in determining its cost. There's a wide variety of braid styles available, such as box braids, cornrows, and Senegalese twists. Each style demands a unique set of skills and time commitment, directly influencing its price. Generally speaking, the more complex and time-intensive a braid style, the heftier its price tag.
Your hair length is another pivotal factor in pricing. Longer hair requires more time and resources, leading to a steeper price. Conversely, shorter hair might limit the feasibility of certain styles, potentially influencing the cost.
The choice of materials, particularly the type and quality of hair extensions, can also sway the price. Premium hair extensions tend to be pricier, and if you're looking to embellish your braids with accessories like beads or shells, you'll need to account for additional costs.
Lastly, the proficiency and experience of the braider come into play. A seasoned braider might have higher rates, but their expertise often ensures a top-notch, durable hairstyle.
Why Choose Feminine Attractions for Your Braid Extensions?
At Feminine Attractions, we are committed to ensuring that all our customers receive the best quality services at an affordable price. Our team of highly skilled and experienced stylists specialize in creating beautiful braided looks for any occasion, such as weddings, special events, proms, or just for everyday wear.
Our stylists have extensive knowledge of the latest trends and techniques in braiding and are dedicated to making sure that you get a look that is unique and perfect for you. We take pride in offering our clients a wide range of braiding options, from traditional braiding styles to more modern, creative looks. We also offer a variety of hair care products to help you maintain your style for longer. So, when you come to us, you can rest assured that you'll get the style that you want at a great price.
We use only premium quality products on our clients' hair so their braids will last until their next visit! The braid pricing at Feminine Attractions is simple and easy to understand, so you can get the look you want without breaking the bank.
Booking Your Braids at Feminine Attractions
To ensure you get your desired appointment slot, we recommend booking in advance by calling our salon or visiting our website to schedule your appointment online.
Remember that the prices mentioned in this blog are average estimates for our salon and may vary depending on specific factors. Consult with one of our professional hairstylists for a personalized quote based on your desired braid style.
Ready to rock a new braid style? There's no better place than Feminine Attractions to make it happen. With skilled stylists who specialize in various braiding techniques, you're guaranteed to leave with a stunning new look that will turn heads wherever you go. Book your appointment with Feminine Attractions Salon in Houston, TX, and embrace the beauty of braids without breaking the bank this summer!